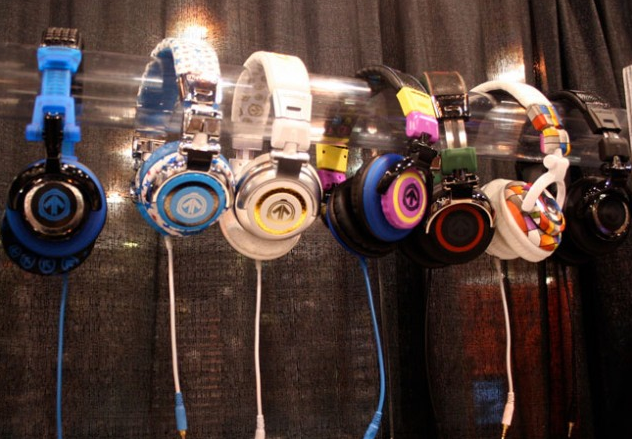 Professional DJs know that their most important assets are their ears.  The necessity of being keen on bass, mids, and highs make investing in a good set of DJ headphones a necessity, not a luxury.  Of course, it helps to look cool, too, at the decks; so, let's run down the top three fantabulous ear candies that deliver the best sound quality while looking their swaggiest best.
Our top three picks: Beats by Dr. Dre Pro, V-MODA Crossfade M-100, and the Sennheiser HD25-1 II.
Take a look at a few more budget minded alternatives to our somewhat higher priced reviewed headphones. For example - Audio-Technica ATH-M50x
---
How did we judge them?
Sound Quality
What's a beautiful set of luxury cans if they can't deliver on this basic factor:  sound quality? To DJs serious with their craft, headphones that don't make the cut on this alone are simply trash.    A top-notch pair allows you to assess the quality of tracks so you can pick up the kick drums and other important sounds above the clubroom din.  Above all, they are so much kinder to your eardrums.  Headphones that give you superb sound clarity won't force you to pump up that volume to hear how you're doing on your incoming track.
We won't like finding ourselves suddenly needing a hearing device like grandpa's when we're just in our forties now, do we?  Sooo not cool.  To get good sound quality, you need to plunk down a little more for your investment to pay off in better performance (and eardrum protection) in the long run.
Design and Build Quality
The present crop of DJs are artists and stage performers.  Gone are the days when DJs holed up in a booth as invisible music masters working the disco crowd.  Today's DJs are celebrity music producers or mixers who can make or break a club's fab mojo.  You need to make a good impression to get some major swag.  So it don't hurt to own a pretty pair at all, just sayin'.
Comfort
Music production and clubroom gigs require hours of headphone wear.  In this case, comfort, after sound quality, is the second most vital factor for choosing the right set of cans.
---
Beats Sound Quality
You want booms, you got it.  Bass heads will particularly love Beats Pro's delivery of those "Yeah!  BASS!"  thumps. The punchy bass may be a little over-the-top for some, but for bass loving fans, it's eargasm time with a pair of these.  You could get a high, shaping your EDM, hip-hop, and dance sets with these cool-looking dudes.  They're great too for nu metal or any other bass-driven genre.
It's not just delivering great bass lines, however, that the Beats Pro excels at.  Mids and highs are well handled as well.  Vocals, strings, cymbals, and other instrumentation are heard crisp and clear with no clouding or softening.  These Pros will let you hear music in great detail.  In fact, it may be too much detail.  Flaws can stand out distinctively in poorly mixed or mastered recordings, especially in those with subpar track layering and poor background noise cancellation.
Beats Design
-With size and heft alone, the Beats Pro is guaranteed to turn some heads.  It is big and cool enough to demand a "Lookit me!" attention.  Throw in a brash "beats by dr. dre" wording on the headband and the iconic Beats logo on the cups and you've got one über sick  aural device that's sure to rack up your club gravitas.
-The set looks solid and feels solid enough to withstand some knocks and tosses.  It's built like a tank with its overall steel framing.   The headband and ear cups are well padded; and rightly so, as the Beats Pro is heav-y.  The ear cup pads can be removed and washed, a huge plus with headsets getting mighty sweaty after a few hours on the decks.  Cups can be tucked up to gain a more portable size.
-You get a thickly coiled 1.8 meter cable cord extendable to 2.1 meters.  Moreover, you can plug in the Pro on both right and left sides and even create a daisy chain to a second headset.
Beats Comfort
Where we heap accolades on Beats Pro's sound quality and design statement, we hold back on the issue of comfort.  Its massiveness makes the Pro weighty.  For some users, the headband padding may be inadequate for cushioning the weight.  Still, if it's style over comfort for you, what's a little thing like a ton on your head, right?
---
Moda Crossfade Sound Quality
V-Moda headsets have been a fave among the likes of celebrity DJ artists Hardwell, Avicii, and Martin Garrix.  The M-100, like its Crossfade predecessors, has a bass-rich sound quality that is powerful and punchy but not overwhelmingly so.  No rattles or distortions to dampen your vibe.  This stylish set is a bang-up at the mid and high-range frequencies as well, areas where the older Crossfade models fail to deliver clarity and warmth.  With a 50 mm driver in each cup, the V-Moda M-100 rocks those deep basses while providing an all-around  rich sound quality, steady at various volume levels.  These are true cross-over pieces appealing to audiophiles and DJs alike.  In fact, this could be V-Moda's best yet.
Moda Crossfade Design
The V-Moda sports a distinctive design language, its signature hexagonal cups lending a rather fashionable but delicate look.  A highly flexible (and indestructible, Voda claims) STEELFLEX frame, however, belies its fragile vibe and gives credence to V-Moda's durability to withstand rugged use.  These set of cans can unbelievably survive numerous drops to concrete floors at a height of six feet.  Well, just take their word for it because at its price point, would you even try?
The ample noise-blocking pads of the cups are removable. The cups themselves fold neatly upward to allow portability.  Two straight-line Kevlar-reinforced cords that come with the set can be attached to either cup.  A coiled type would have been preferable though to minimize annoying snagging during performance. Like the Beats Pro, the V-Moda Crossfade M-100's cable provides an option for another headphone to be plugged in tandem.
Moda Crossfade Comfort
Compared to the whopping 400 grams on the Beats Pro, the V-Moda M-100s are flyweights at 240 grams.  Ergonomically designed headband, cups, and ear pads make the wearing comfortable.  Fresh out the box, these cans can pinch a bit.  For a quick fix, use the Steelflex headband's super bendable quality to stretch that pair out. After that, these babies are good to go.
---
Sennheiser Sound Quality
The HD25-1 II from Sennheiser has been around for over a decade now proving its excellence with a  longevity rarely matched in a highly competitive "race-for-a-new-model" market.  That's because the sound quality of these fantastic headphones can only be described in one word:  brilliant.
Bass delivery is tight, punchy, and just right.  It doesn't go overboard as it can get on some tunes on the powerful Beats Pro.  Bass power is far better balanced than that of the Momentum, its highly rated cousin, the sound quality of which is more suited for non-EDM listening audiophiles than for pro clubroom DJs.  The mids and highs are exceptionally crystal.  The downside to this is that you hear unwanted background noise especially in old recordings done back when sound clarity wasn't this superior.
A decade and a half competing in a market of "improved sound performance models" puts the Sennheiser HD-25 II at the top of the list of proven DJ headsets.  When it comes to sound quality, there is nothing not to like with this dope set of cans.
Sennheiser Design
The distinguishing split headband marks the Sennheiser HD25-1's pretty straightforward style.  This light, tough brace holds two cups that can easily be disassembled. This not a set that can be folded or flattened out but one can throw it in a bag and not worry about damage.
Long, uncoiled cables come with these headsets.  Again, not a great idea but then whether straight or coiled really boils down to personal preference.
Overall, these headphones' understated handsomeness takes a backseat to the flashy Beats Pro and the avant-garde V-Modas; but, for DJs who like simple elegance, these Sennheisers fit the bill.
Sennheiser Comfort
If the V-Moda M-100s are flyweights, the HD 25s are featherweights.  These light 140-grammers show that comfort was integral to its design.  Because the headband is split into two moveable pieces, these can be adjusted to suit the shape of your head.
---
Bottom Line
It all boils to down to how much importance you attach to sound quality, comfort, style, and let's not forget, price.  For quick beat matching and cueing, deep powerful bass is a huge plus and a hallmark of the Beats Pro.  The V-MODA M-100 and the Sennheiser HD 25-1 II have a balanced sound quality both DJs and discerning audiophiles give two thumbs up to.  In the style department, the Beats and V-Moda cans take the most swag points.  Sennheiser takes center stage in the comfort arena, followed by the V-Moda with Beats trailing way behind.  All three headphones have the build and durability to withstand a DJ's rugged use.
Value for money, the Sennheiser HD25-1 II seems to be the best bet as it embodies the most balanced mix of factors.  Then again, it's all up to your priorities to decide which of the three should be your best DJ headset of choice.