The Hex SL is a new product introduced this year by 808 Audio, and I've spent the past week listening to it to give a full review. Follow the directions at the bottom of this post to win your very own free Hex SL Wireless Speaker!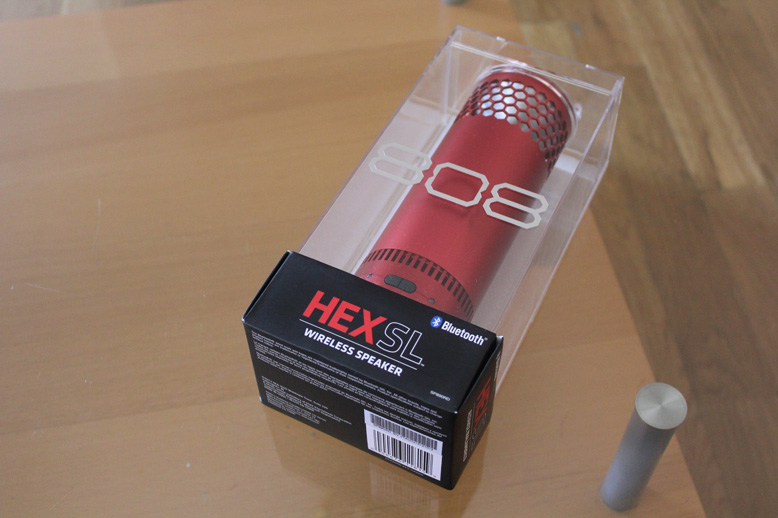 Unboxing & Design
Unboxing the Hex SL, we have the speaker, usb charging cable, AUX cable for non-wireless play, and a free $10 coupon for tracks at eMusic.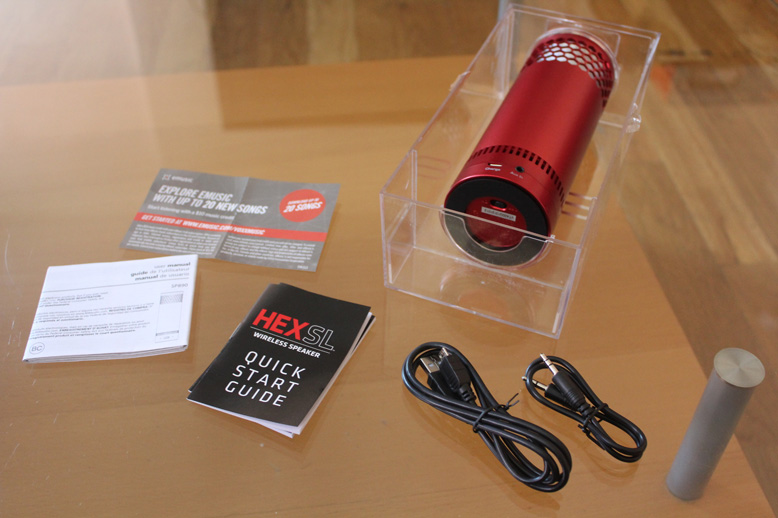 First impression...the Hex SL is just damn sexy. It has an appropriately heavy feel to it, and a slick coat of paint that reminds me more of a car than a speaker. 808 Audio definitely nailed the aesthetics of the speaker and it really bumps the cool factor. Peeping through the honeycomb grid, you can see the speaker through the top.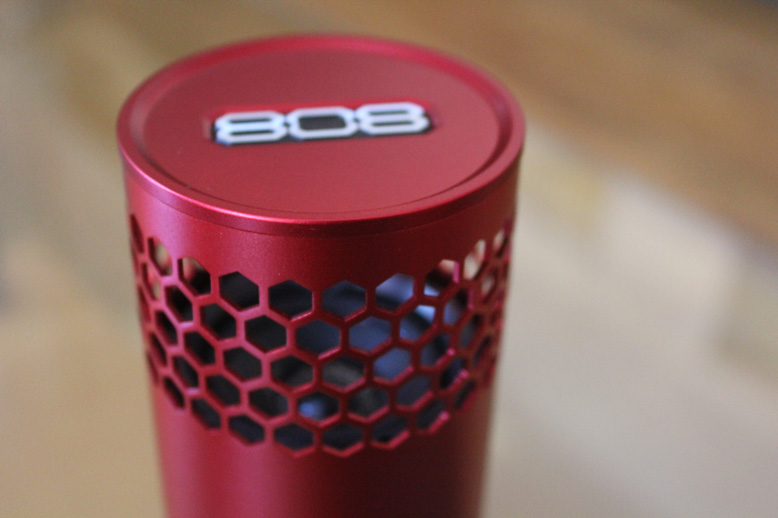 The speaker came with a pretty decent charge, but the manual recommended giving it a full charge. So I plugged the provided USB cable into my iPhone wall adapter and an hour later we are good to go.
Pairing to your phone
Pairing the speaker was...too easy. I've previously had problems pairing wireless speakers or headsets with my iPhone, so I thought it'd be another nightmare of trying to get the phone to discover the speaker, entering in PIN codes, and having disconnection issues.
But I was pleasantly surprised!
All it took to start playing music was turning on Bluetooth on my phone (in Settings -> Bluetooth), clicking '808 Hex SL,' and bam it was connected!
I switched to RDIO, my preferred music app, pressed play and music instantly started booming from the speaker. It's never disconnected once, even as I've walked around the room with my phone in my pocket.
Easy!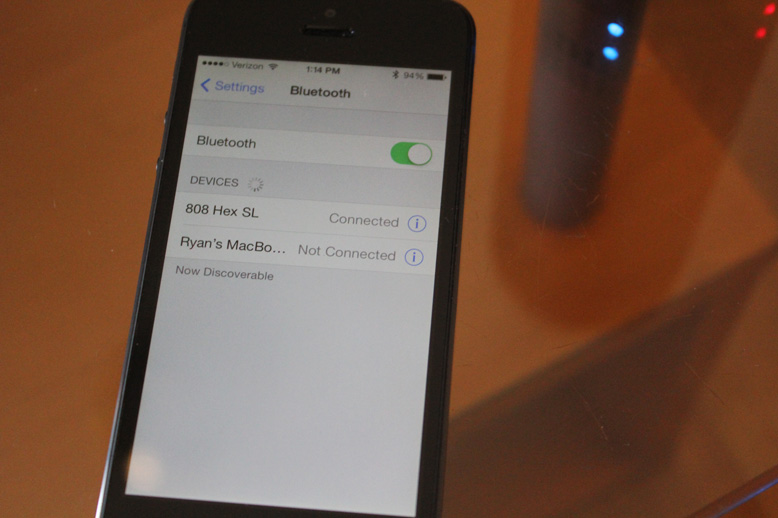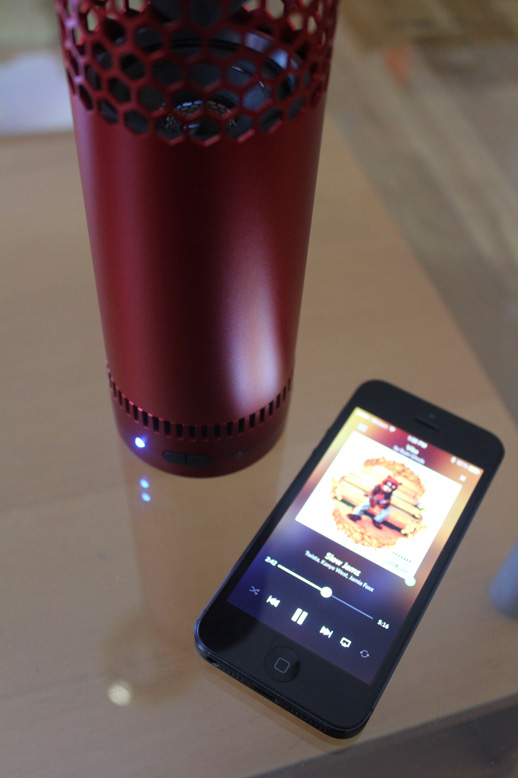 Sound quality
I played through a range of songs to get a sense of the sound quality throughout genres. At lower volumes, the speaker sounds great. Nice punchy bass, and clear mids and highs. Everything from Mumford & Sons to Radiohead to Kanye West played well. Impressive for a small speaker that's just inches in diameter.
However, as you get a bit louder, the bass starts to distort and you don't get as crisp as a sound. This was less an issue with rock, and more so an issue with bass-heavy hip hop and house.
So with that said, this speaker is great for casual listening or background music. And that's really what it's meant for at its size -- you don't buy this expecting it to fill in music for a party, as it won't be able to handle it. But for most other gatherings with friends, it's a nice accessory to provide some background tunes.
Functionality
The manual says the speaker has up to 12 hours of play time on the battery. I'm at least 8 hours in while writing this review, and it's still going strong. I do wish there was some sort of battery indicator, but nonetheless an impressive amount of battery from each charge.
A nice bonus is that I can adjust the volume of the speaker from my iPhone's volume buttons, in addition to the buttons on the speaker, so your phone becomes a full-on remote control for the speaker. If you set the speaker a few feet away, you won't need to keep going over to it to adjust the volume.
The bluetooth has a 30 feet wireless range, and the AUX input cable is a nice addition for non-bluetooth devices, or easy hookup to a computer without needing to pair wirelessly.
Final thoughts
Since the Hex SL is wireless and battery powered, it's a great accessory to pack in your bag and go. There's not much to forget when taking the speaker with you, as long as you have a full charge.
With the nice summer weather approaching, the Hex SL is perfect for the park or other gatherings. I know I'll be taking it along with me this weekend! Plus, any of your friends can easily connect to the device to take turns playing tracks and showing off their music.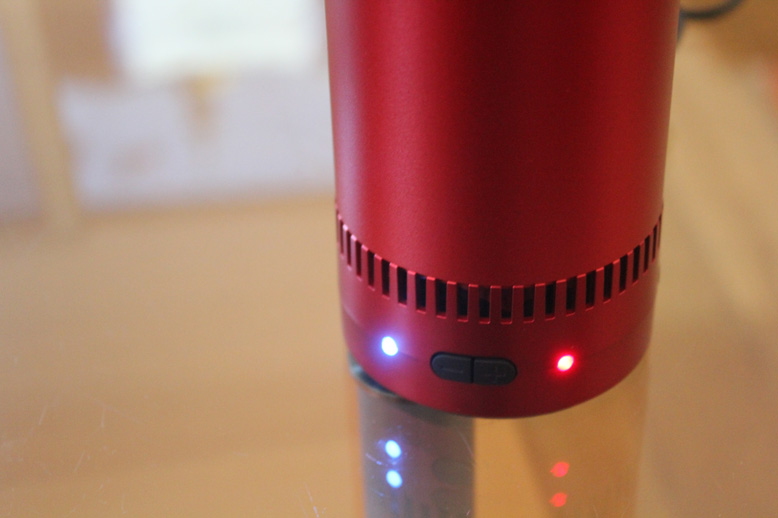 Win a Hex SL!
To win a Hex SL, leave a comment below with the first place you'd bring your shiny new wireless speaker with you, and the first track you'd play on it.
On June 30th, I'll pick a random lucky winner that gets one to keep! Leave a comment and keep an eye out on your email inbox to see if you've won.
Share this post with your friends to enter because, if they win, you'll also get the benefit of bumping tunes from it! Click to tweet this post!
If you'd like to grab your own, you can buy the Hex SL on the 808 Audio Store for just $60!
UPDATE: Congrats to Mike H for winning the speaker, and thanks to everyone for entering! Stay tuned for more future giveaways.