Club Dance Mixes is proud to bring our audience its first ever gear review! This is brought to you courtesy of Gear4DJs, one of the best websites to find great deals on DJ Equipment. They have everything from lasers, headphones, DJ Booths, speakers, stands, and controllers. So let's begin with our in-depth review of the American DJ Micro Hypnotic!
A DJ's Web
The American DJ Micro Hypnotic is part of the Micro Laser series from American DJ. This series includes a Green and Red Laser , a Micro Galaxian Laser, a Micro Gobo Laser, and the Micro Hypnotic Plasma Laser which is what we had the chance to play with for the past couple of weeks. This laser is unique in the sense that it emits a web like pattern onto your ceiling or floor. This effect is magnified with the use of smoke and creates a really cool show to entertain your crowd. It's similar to an abstract painting that creates unique visual shapes every time. Think of a deep space Nebula in your night club or venue.
Unboxing
The unit was shipped quickly and in perfect condition when we received it. Below are some pictures from the unboxing:
The unit comes with RF Wireless Remote, and yes the battery is included for those of you who were wondering. The remote controls various settings such as Auto Play or Sound Mode, Blackout (shutoff the laser for a certain period of time),  the option to change the colors at different intervals, and rotation control of the laser (Clockwise/Counterclockwise/Random). The best part about the remote is the fact that you can link multiples units to one remote through a simple syncing sequence.
If you look at the back of the unit you will see some of the the various modes and options available to you. There are two modes, one being Sound-Active mode - which reacts to the sounds of the music, and Auto Play mode - which is pre-programmed to it's own preset routine. Both of which still create amazing effects, my favorite being the Sound mode as it moves in time to the beat of your music. There are indicator lights on the front of the device to give you a visual cue depending on which mode you are in.
There is also a speed knob which speeds up or slows down the effect of the web. From what we saw, you have great control over the speed of the green laser mostly, to the point of freezing it. You also have the available option to use one of each color. Don't like the red, you can switch it off with the press of a button.
It came with some clear instructions which I have linked here, and the setup was very easy overall. The Micro Laser will fit conveniently into any medium sized bag, or backpack. It is extremely portable, and for such a portable device it packs a powerful punch.
For those of you who are power conscious, the device only takes up about 12 V, and is fan cooled meaning the device won't run too hot even for extended gigs. I had a gig that lasted about 9 hours and after unplugging the device at the end of the night I was surprised that it was as cool as when I had turned it on.
There are other perks to such a small device, such as weight and form. The Hypnotic clocks in at about 2lbs/8kgs and this device is a breeze to carry! It's even easier to setup onto an existing truss with the included hanging bracket. Don't have a truss? Don't worry, you can also stand up the unit on it's very own legs as seen in the pictures. The mounting kit is some heavy duty stuff, and I haven't seen any visible signs of wear and tear in the amount of times we have set it up. I can't forget the plastic knobs on the side which help to tighten the device to your desired specifications without a hitch.
The overall build of the laser is a combination of high-impact plastic and steel. Meaning if you were to accidentally mishandle it and drop the device, your heart could stay in tact as it isn't prone to breaking. In fact the smooth metal finish gives it a nice textured feel.
Take a look at the pictures below for some laser action in a dark room:
How does it perform?
In our tests this little guy performed quite well, especially compared to it's brothers and sisters. The other lasers create some cool effects, and are really distinct because they display some nice gobo patterns on walls and ceilings. The Hypnotic performs just as well, creating an amazing effect that in conjunction with your other lights will dazzle your audience. It really looks like something out of a Rock concert. It's crazy to think these lasers used to cost upwards of $300, (£187) and now they are 1/3 that price!
At a distance of about 2-3 feet from the wall, the laser produced about a 3-4 foot radius. At a distance of 60 feet the green laser could still be seen clearly projected onto the wall/ceiling. (It is a laser, so the dispersion possibilities are truly endless) If you combine this lazer with fog prepare to be blown away because the effect is amplified at least 10x! The green laser is going to be a lot brighter because the energy required (30mW) is considerably less for it to be visible by the human eye than the red component (80mW). American DJ did a great job of balancing the two quite nicely.
Overall this laser is a killer show. It will look amazing on any wall or ceiling and with an extra fog effect will really bring it over the top.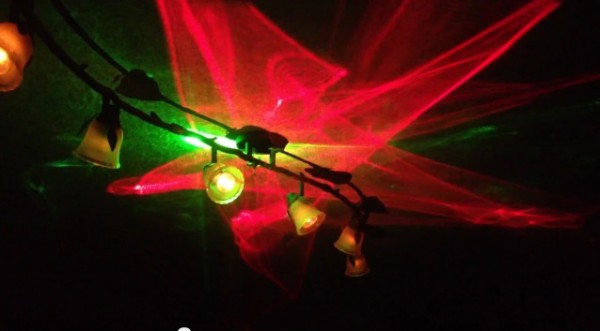 Key Features
Web Effect that will Wow your audience! (Great for Halloween)
Price - This thing is totally worth the price! Comes in at

£59.00

or about $99.99, for a laser that years ago would have cost triple that!
Portability: Weight: 2 lbs. / .8 kg. | Dimensions (LxWxH): 6"x4.75"x2.5" / 149x110x60mm
2 operational modes: Auto Mode (built-in programs), or Sound Active Mode
Built-in programs can be changed with a push of a button on the unit or from the RF wireless remote (control multiple units at once)
Fan cooled
Check out the video below to see how the laser looks live:
Conclusion
The American DJ Micro Hypnotic Laser is truly a beast. The price and the value are the perfect combination, too good of a deal to pass up. It's lightweight, runs cool provides great range. If there is one downfall to the unit it's that it only comes with two colors.
Rating: (4.5/5)